MTQG Board 2020-2021
President ……………………………………………………………………Diana Ramsey
President Elect……………………………………………………………Maureen Carr
Program Chair…………………………………………………………….Erin Sullivan
Secretary……………………………………………………………….……Ronda Hatfield
Treasurer…………………………………………………………………….Suzy Davidson
Committee Chairs
2022 Opportunity Quilt Creation……………………Suzy Davidson
Accuquilt Cutter Custodian…………………………….Kathy Hofmeister
Block of the Month…………………………………………Peggie MacKenzie
Bus Trip Coordinator………………………………………Dona Speights
Community Quilts………………………………………….Diane Stockhaus, Kathy Hofmeister
ECHOS……………………………………………………………Nancy Hall, Dawnell Muecke
Library……………………………………………………………John Ramsey
Luncheon – Spring…………………………………………
Luncheon – Winter………………………………..……….Liz Hart
Membership& Directory………………………………..Donna Domino
Mini Group Coordinator…………………………………Peggie MacKenzie
New Member Group………………………………….…..Lori McCarthy, John Ramsey
Newsletter……………………………………………………..Lucy Fields
No Email Callers……………………………………………..Adrianne Morrison
Photographer………………………………………………..Hildy Smith, Donna Domino
Quilt Camp-Fall………………………………………………Susan Perry, Joan Carrell
Quilt Camp- Spring…………………………………………Nancy Hall, Janice Zolnierowicz
Refreshments…………………………………………………Dolores Schrock, Bev Markham
Show & Tell……………………………………………………Kay Wentworth
Sunshine……………………………………………………….Susan Ryan
Thread Brigade………………………………………………Bobbie Mae Ball
Website……………………………………………………….…Patty McClearn
Youth Quilting Program………………………………….Diana Ramsey
Road to California Winner
Jan Mawk won 2nd Place for an appliqued wall Hanging. Picture coming soon.
Hall of Fame Induction
Jimmie Johnson, a founding member of MTQG, was inducted into the Arizona Quilters Hall of Fame on September 22.
The ceremony was attended by six members of her family. Twelve members from her quilting guild from over the years.
Jimmie, in her acceptance of the award, thanked all those involved in nominating her and received the only standing ovation of the day. It was such a wonderful time to honor a lady who has given so much to generations of quilters, sharing her love of the art.
MTQG Board 2019-2020
President-Diane Stockhaus
President-Elect Diana Ramsey
Programs – Donna Domino and Martha McClellan
Secretary-Kay Wentworth and Suzy Davidson
Treasurer-Kathy Hofmeister
Opportunity Quilt for 2019-2020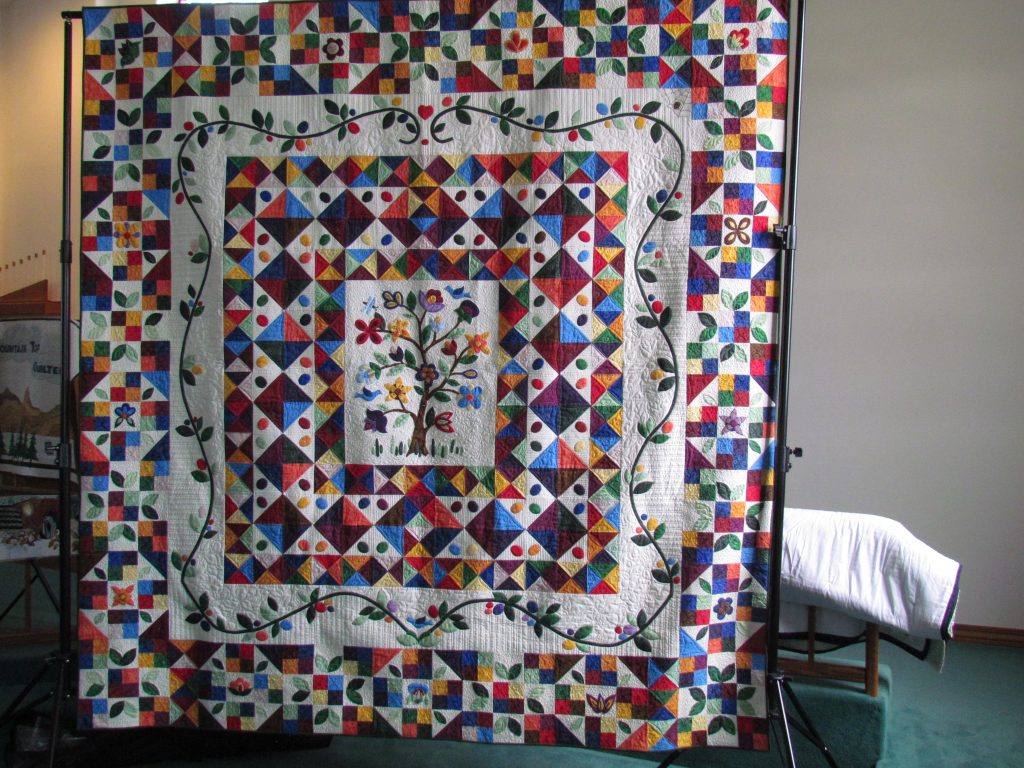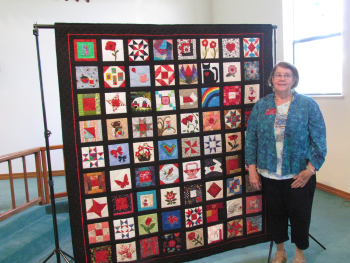 Kristi McHugh  received her President's Quilt from MTQG as a thank you for her service to our guild for 2018-2019.
Yavapai County Fair 2018
Kay Hoff was a winner!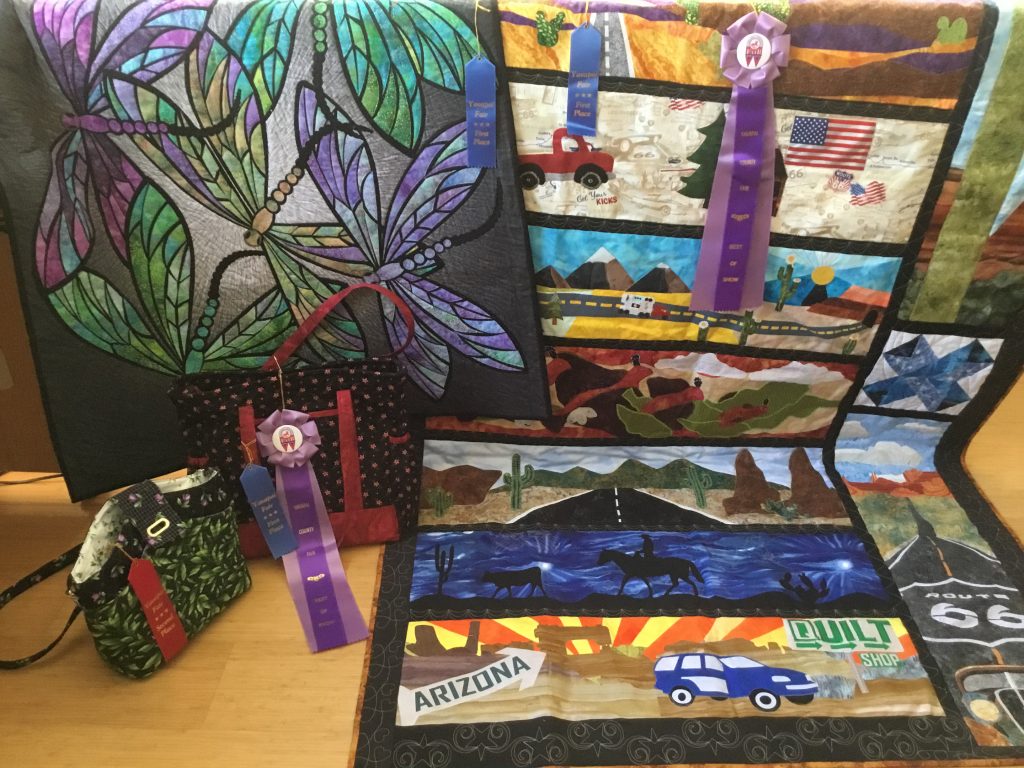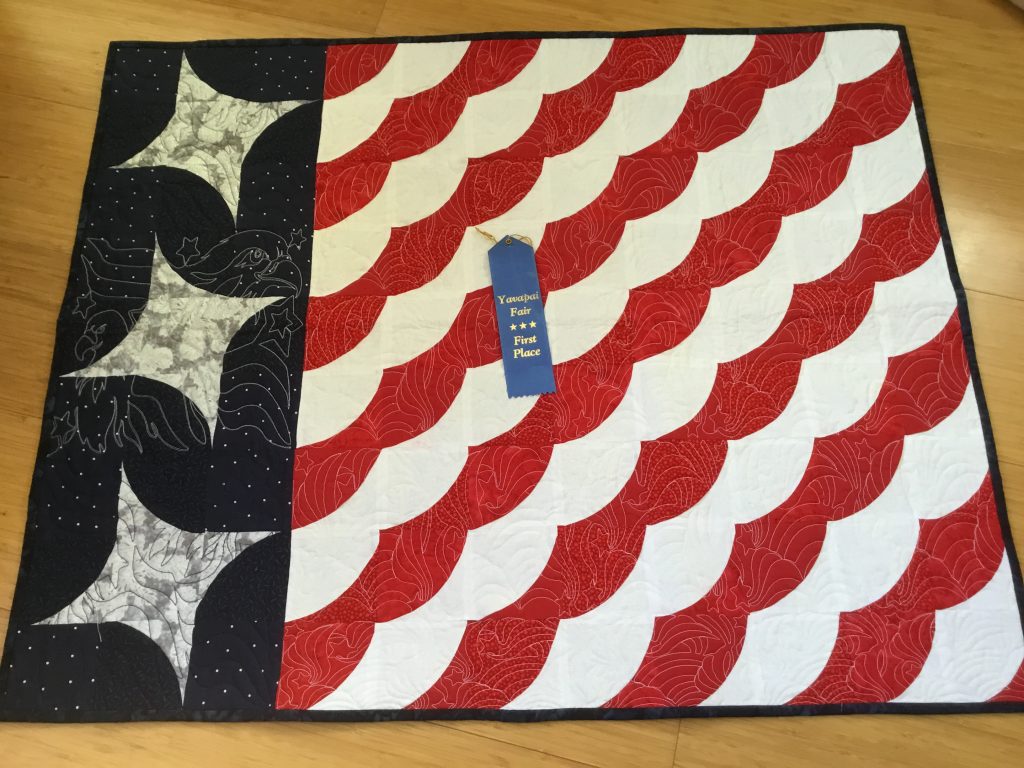 Behind
the Scenes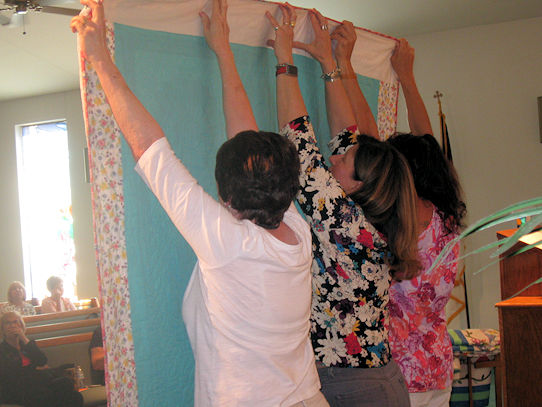 Taken at Marcia McMullen's program, this photo shows what goes on during MTQG programs and Show and Tell when volunteers hold the quilts for the rest of us to see.
Jan Adams and Her President's Quilt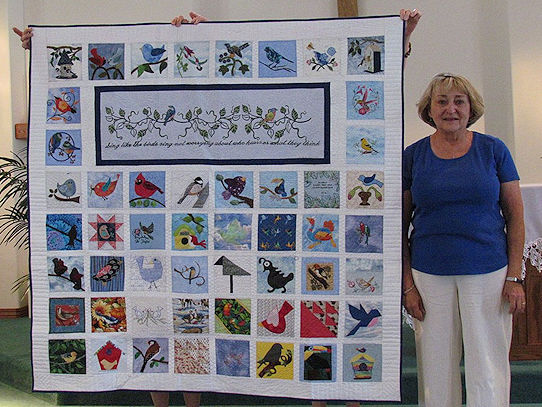 Jan Adams received her President's Quilt from MTQG at the June 2017 luncheon as a thank you for her service to our guild.
MTQG Board 2017-2018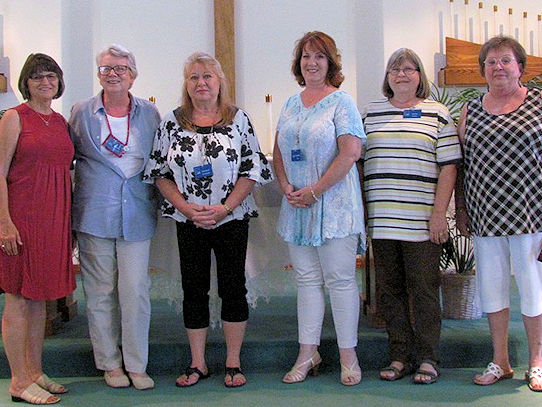 Board Members 2017-2018: Carol Cooley, President; Diane Stockhaus, President Elect; Michele Schneider, Treasurer; Maureen Carr, Programs; Susan Masse, Secretary; Pam Easley, Programs.
Sophie James shows her baby quilt May 2017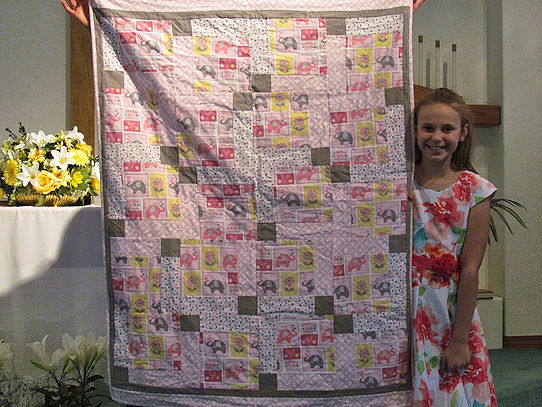 Sophie James has been taking sewing lessons from Diana Ramsey for several several years. She started with simple embroidery stitches and moved on to learning how to hand stitch small felt craft items. For her 9th birthday last year, her parents gave her a small sewing machine. She has sewn Christmas stockings for all of her family, a pumpkin centerpiece for Thanksgiving and a throw pillow, on which she had embroidered a unicorn. When she found out she was getting a new little sister, she and Diana picked out flannel fabric and made a flannel baby quilt. Diana did the cutting and Sophie sewed the top. She has a natural talent and passion for sewing, and really looks forward to her weekly sewing lessons.
Christmas Luncheon December 2016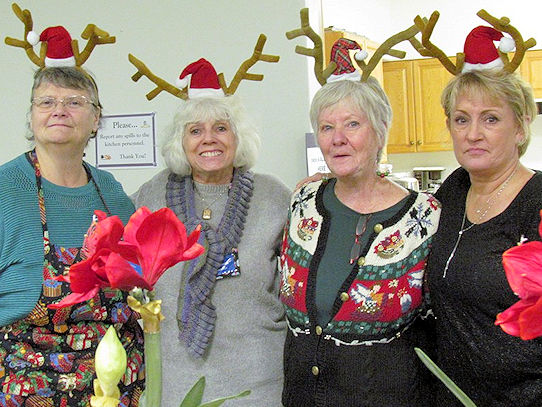 Winner of 2016 Opportunity Quilt: Pat Bradford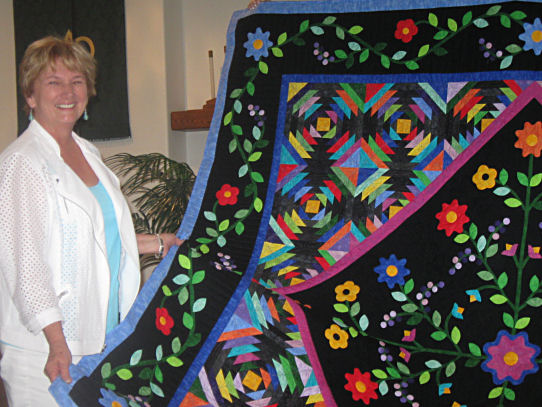 Happy 90th Birthday, Rosalie McDowell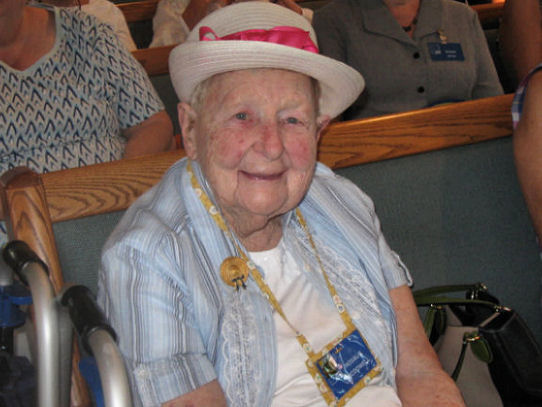 Rosalie McDowell, a long-time member of Mountain Top Quilters Guild, celebrated her 90th birthday in June.
Board Members 2016-2017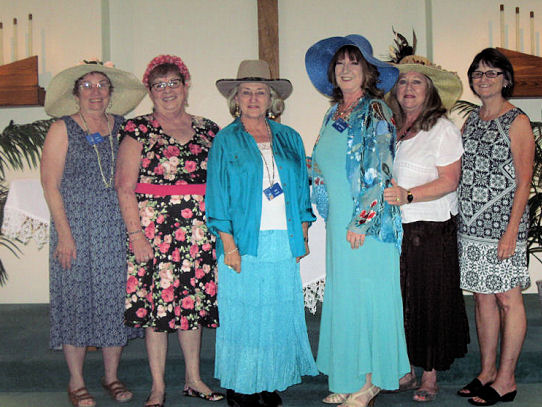 Marti French and Pam Easley, Programs; Jan Adams, President; Maureen Carr, Secretary; Michele Schneider, Treasurer and President-Elect, Carol Cooley
Linda Marley's President's Quilt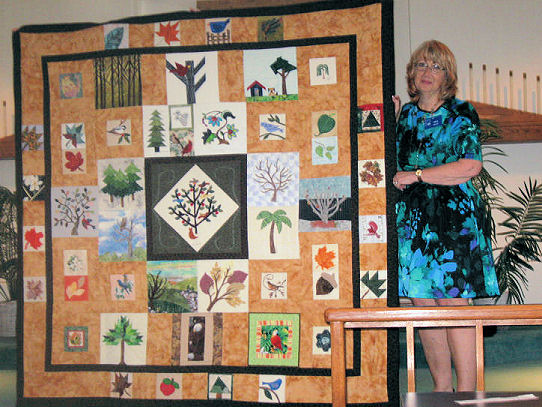 MTQG members made a quilt with a tree theme for Linda Marley to thank her for being the 2015-2016 President. It was presented to her at the June general meeting by incoming President Jan Adams.
Outgoing Board 2015-2016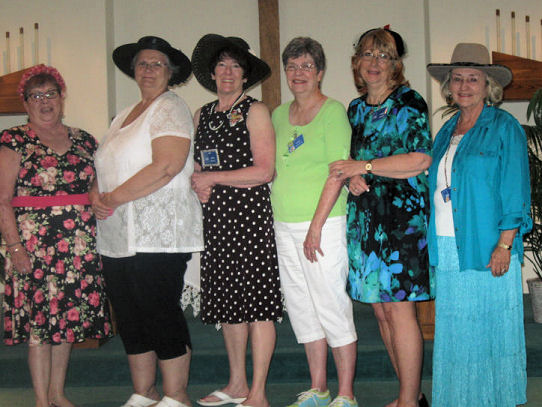 Pam Easley and Judy Dalner, Programs; Dona Speights, Treasurer; Terry Robertson, Secretary; Linda Marley, President; and Jan Adams, President-Elect.
Lapreil Schwan's President's Quilt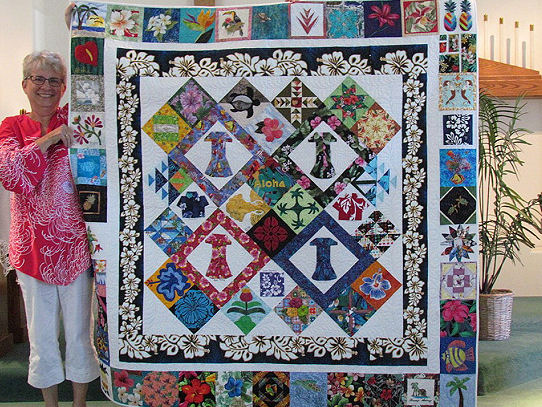 A Hawaiian-themed quilt was made by MTQG for Lapreil Schwan to commemorate her service as 2014-2015 President, and was presented to her at the June general meeting by incoming President Linda Marley.
Past Presidents' Quilts
In soon-to-be president Linda Marley's "Getting to Know You" theme for 2015-2016, some of the past MTQG and MTQ past presidents are shown with the quilts presented to them as group thank yous for their service.
President's Quilt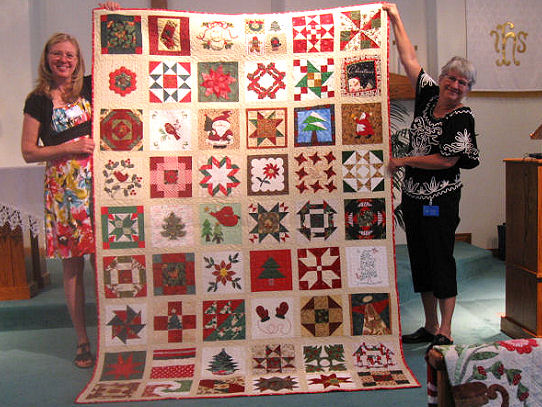 Diana Ramsey (left) receives a Christmas-theme quilt made by members of Mountain Top Quilters Guild as a gift for her service as president.Lapreil Schwan, (incoming president) is shown presenting the quilt to Diana.
New Board members for 2014-2015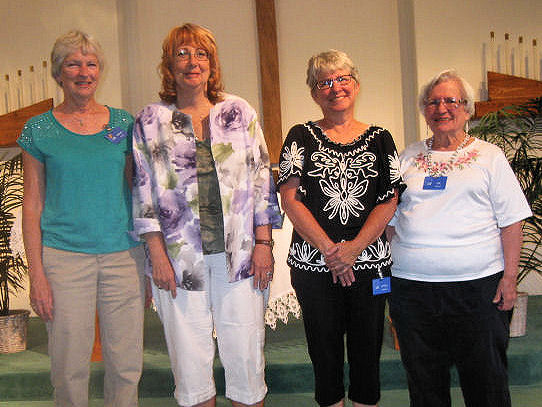 Sandie Allen, Program co-chair; Linda Marley, President-Elect; Lapreil Schwan, President; Jan Walls, Secretary. Not pictured: Terri Brown, Treasurer; Lois Fox, Program co-chair
President's Quilt presentation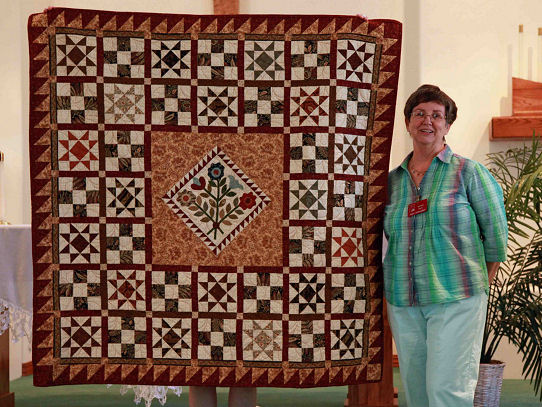 Kathy Dunn was presented this lovely quilt as a gift from MTQG members for serving as president of our guild 2012-2013.
Committee Chairs 2012-2013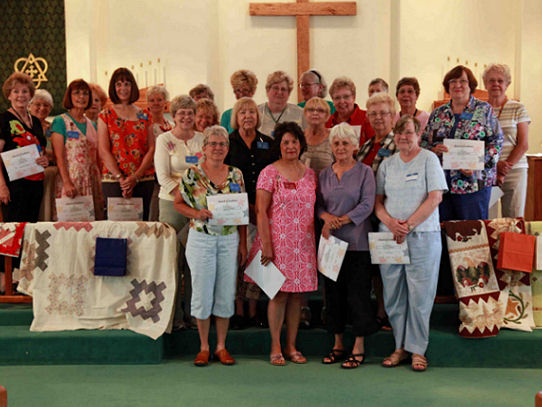 Quilt Presentations 2013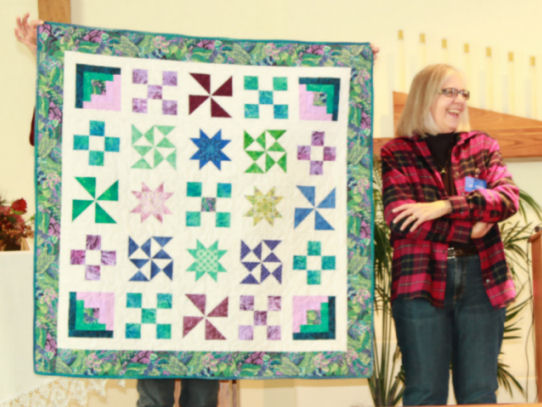 Jennifer Mees with her new quilt
Marty Lensink admiring her special surprise quilt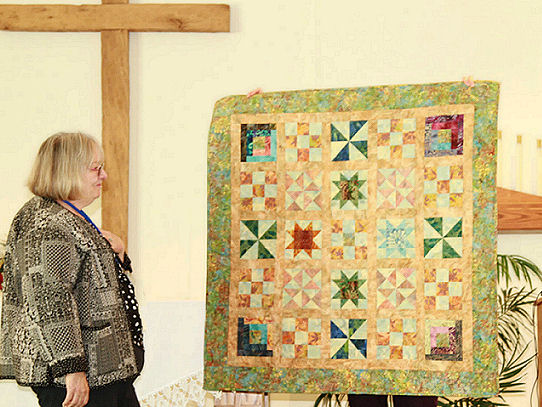 Quilts made by some of the past and present board members to thank Jennifer Mees and Marty Lensink for their efforts in reorganizing our guild were presented at the general meeting in February 2013.
New MTQG board members for 2012 – 2013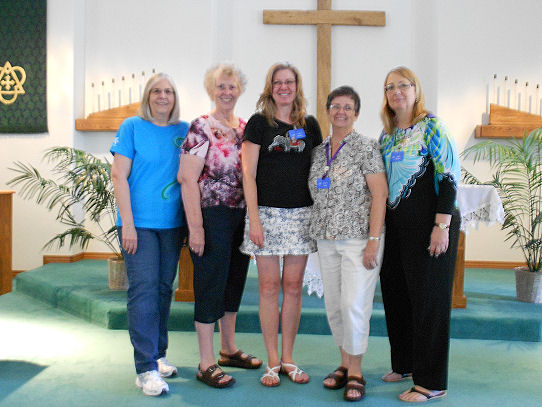 Jennifer Mees, Treasurer; Sherri Hubbs, secretary; Diana Ramsey, President-Elect; Kathy Dunn, President; and Linda Marley, Program Chair
These moments were from the June 2012 general meeting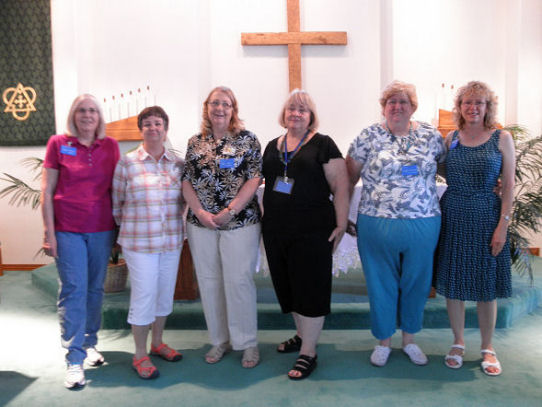 Out-going board for 2011 – 2012: Jennifer Mees, Kathy Dunn, Linda Marley, Marty Lensink, Genevive Van Den Hout, and Susan Perry
Susan Perry was presented with a President's Quilt for her service to our group for the past year.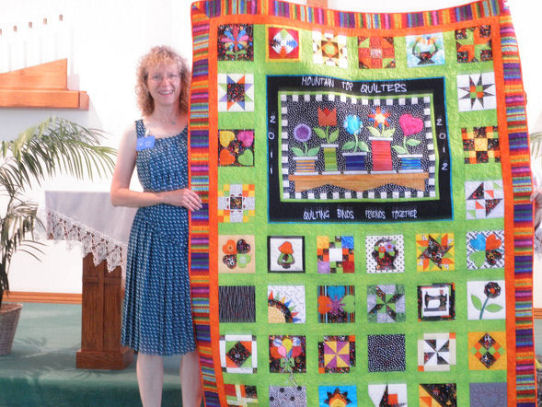 Wayne Wolfe was presented a man-sized pin cushion to thank him for all the work he does for community quilts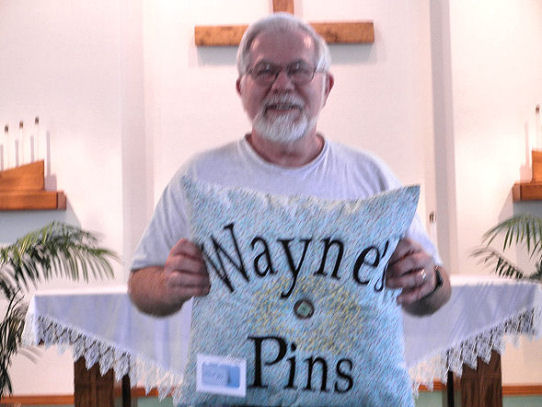 Swappers Mini-group Auction Quilt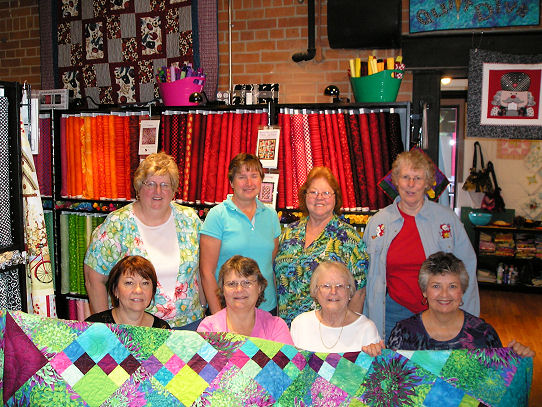 The Swappers Minigroup (many but not all are pictured) made this quilt for auction at the Yavapai County Big Brothers/Big Sisters Gala Event last November. All of the fabrics came from our individual stashes and Quilter's Dream donated a portion of the machine quilting. At auction, the project brought in a "nice am't" of money – and all for a very worthwhile cause.
Top row: Genevieve VanDenHout, Judy Larson, Darlene Gatewood, and Sherri Hubbs
Bottom row: Julie Nanke, Judy Dallner (a "Big Sis" herself), Sandy Duncan, and Carol Miller.
(not pictured is Mollie Harkness)
Mountain Top Moments
When special "moments in time" occur, it is especially gratifying to record them in photos.
Whether the occasion is happy or sad, or perhaps even silly, mountaintop image these photos remind us of a special time at one of our meetings and bring back memories of our many MTQG friendships.
Listing of officers from previous years is available Here.