2020 Opportunity quilt pattern is "Dream Tree" by Terri Westberg, published in American Patchwork & Quilting, August 2015. (Terri gave us permission to use her design.  The quilt was officially appraised at $2700.00 by Gail Van Horsen of Sequim, WA. The size is 91″ x 95″.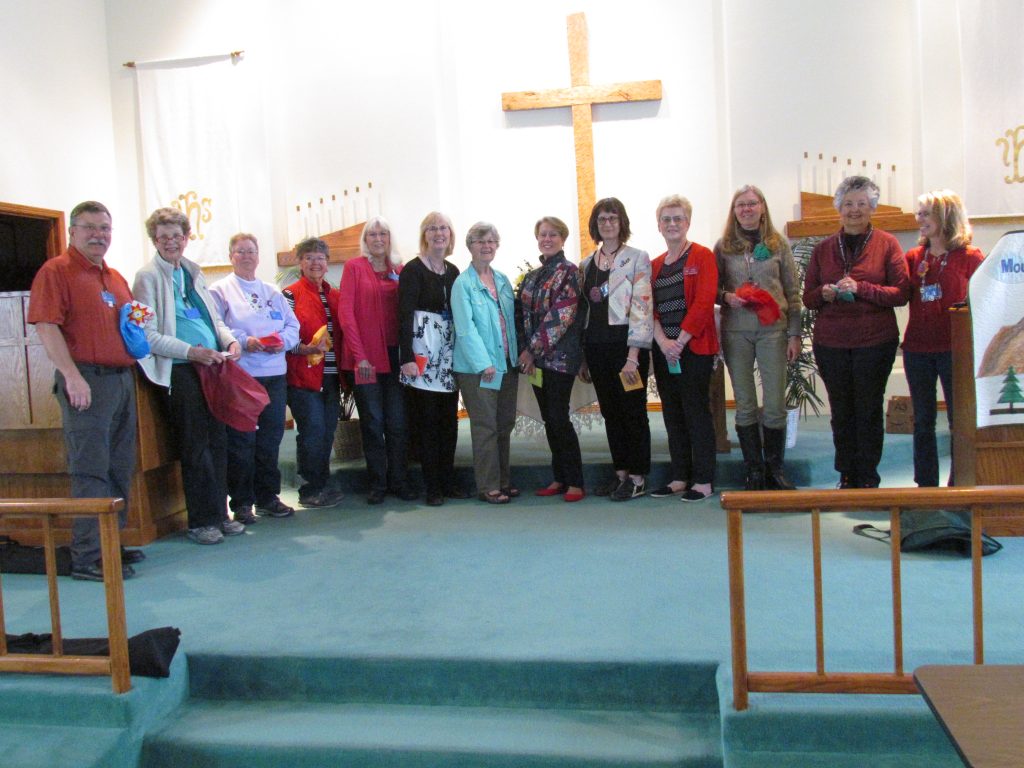 Opportunity Quilt Makers for 2019-2020
2020 Quilt Show Challenge 
Did you know that the 19​th Amendment giving women the right to vote was approved by the US Senate June 4​th​, 1919 and was officially certified on August 26, 1920? (2/3 of the states were required to ratify the amendment). 2020 will be the 100 year anniversary of women having the right to vote! Lets celebrate with a quilt challenge! Kristi and Susan are asking for small quilts to be submitted for display at the 2020 Visions of Quilts show. We are defining small as having a perimeter of roughly 80 inches (which is 20×20 if it's square- though there is no shape no requirement). If the quilt is a little bigger (or a lot bigger) it's okay. There will be a separate category in the registration form that will be available in February. We haven't figured out how to judge the challenge quilts yet- we'll keep you posted. We hope this inspires some of you to get creative and make a quilt to celebrate women's suffrage.
The 2020 Quilt Show will be held at Findlay Toyota Center on September 4th and 5th.  The Theme is "2020: Visions of Quilts". 
September 4, 5, 2020, Friday 9:00AM-5:00PM Saturday 9:00AM-4:00PM
Admission $5.00
Over 300 Quilts on Display
Quilts of Valor Special Exhibit
Vendor Mall
Boutique
Small Quilt Auction Saturday at 1:00PM
Quilts with a Story Friday at 10:00AM, 1:00PM & 3:00PM Saturday at 10:00AM
Opportunity Quilt Raffle
Lite Lunch Available on site
2020 Quilt Show Quilt Entry Form & Instruction (Entry Form) Deadline June 15th, 2020
 Small Quilts due on July 20
The Small Quilt Auction is a fun event to show our work and donate quilts to be auctioned at the Quilt Show to make money for our Guild.
We are now accepting Small Quilts for the 2020 Vision of Quilts Small Auction.
Before turning in your small quilt, please print and complete the quilt auction form which is on the website, under 2020 Vision of Quilts forms.  Each small quilt must have a form. If you are unable to print the form  see Marcia Jacobson or Susan Ryan at the Membership table.
Boutique Items are due July 20th
In July and August we will have volunteer sign-up
boards with opportunities for all members to give a
few hours' time (some jobs are seated) to help
make the show a success. Thanks, in advance,
for participating!
2018 MTQG Quilt Show Winners:
Best of Show:  Janet Nieuwenhoff's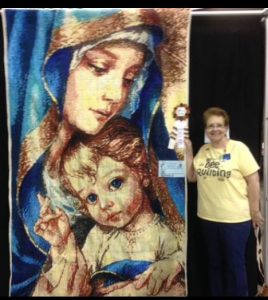 Mother and Child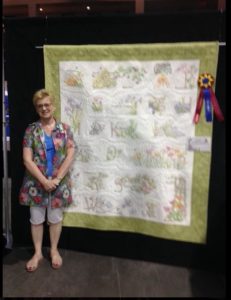 AZ Quilter's Hall of Fame:  Joan Carrell's Embroidery, Easy as ABC
Mayoral Awards:
Mayor Greg Mengarelli of Prescott –Mom's Hankies by Beverly Bowe
Mayor Harvey Skoog of Prescott Valley –Wyoming Memories by Maxine Everaert
Mayor Darryl Croft of Chino Valley –Jungle Walk by Maureen Tritle
Mayor Terry Nolan of Dewey-Humboldt – Mother and Child by Janet Nieuwenhoff
Applique:             First Place – Jan Mawk's Summer's Bounty
Second Place – Janet Nieuwenhoff's  Spring Time
Third Place – Barbara Renoux's  Poppa
Art:                        First Place – Janet Nieuwenhoff"s Mother and Child
Second Place – Karen Adams' Along the Fiord, A Slice of Norway
Third Place – Ann Ramsey's Quetzal
Mixed:                 First Place – Joan Carroll's Embroidery, Easy as ABC
Second Place – Jan Smith's Bachelor's Wedding Ring
Third Place – Beverly Bowe's Mom's Hankies
Pieced:                 First Place – Angie Christie's Eye of the Storm
Second Place – Jan Smith's Dream Catcher
Third Place – Iris Lacey's Quilt #113
Wearables:        First Place – Iris Lacey's 3 Baby Jackets
Second Place – Kay Hoff's Sweet Strawberry Tote
Third Place – Kay Hoff's Professional Tote
Special Recognition:  Mary Jane Goodwin's  Owls with Attitude
(This quilt received the most votes out of its category.)
Memories of our 2016 quilt show may be seen Here.