January 2020
Happy New Year! This time, I'm in the right month…really! As we end the Christmas holiday festivities, and work through our resolutions for self-improvement, a moment of reflection falls upon us. We often look back and evaluate our activities, then move forward with the goal of striving to do better. For our guild, we achieved so much during the year just passed, and we plan to do better in the year to come. Personally, I'm looking forward to the TOAD reveal and Fun Day – both planned for January. Our members are so talented, and viewing their work is so inspiring! In February, our guest speaker will teach us about Barn Quilts – an American treasure. In March and April, Programs will address thread painting and folk art stitching, respectively. And in May, we will reveal our Community Quilt Challenge entries. There's so much going on! All of this is in preparation for our biennial Quilt Show in June – a special event enjoyed by so many quilters who come to us from all over Arizona. So, let's join together and continue enjoying the fruits of our labor, to make Quilting even more fun! Let's make 2020 a year to remember! Diane Stockhaus
December 2019
I know that I am not alone in loving this time of year…the crisp air, the occasional snowfall, the little
children eagerly awaiting the arrival of Santa. And of course, the gathering of family to help celebrate this
holy season is exciting and welcome. Hopefully, those quilted gifts are finished, or nearly so, so that they
can keep everyone warm and toasty! And, as another year approaches, we begin to mentally plan the next
projects, hoping they don't become next years' TOAD submission. Oh, the challenges! And so much to
look forward to, as well. Happy quilting, everyone, and let's make 2020 a special and grand year!
Merry Christmas to all of you and Happy New Year
Diane Stockhaus
November 2019
As we approach the holiday season, we are reminded of the many things we are grateful for…our family
and friends, our health, our hobbies and passions, and perhaps best of all, we should be thankful for the
talent of our fellow Quilters. Each month, I'm ever amazed at the display of creativity shared during the
Show & Tell portion of our monthly meetings. The creativity inspires, the workmanship is admirable, and
the imagination soars! Additionally, I am reminded that members of this guild are so generous in its
giving – giving of time, giving of knowledge, and giving of spirit. So I am grateful once again to be a small
part of this magnificent organization. And in this spirit, I wish you all a great and Happy Thanksgiving!
Sew on, quilters!
Diane Stockhaus
October 2019
Quilt inspiration by Jacquie Scuitto
I went to a quilt show and what did I see
But more kinds of quilts than I thought could be;
There were hugh ones and minis and lots in between
Combinations of colors that I'd never seen.
Some quilts were just triangles, others all squares.
I saw appliqued angels, rabbits and bears.
I saw fanciful shapes and stars all aglow,
All the quilts with no ribbons and the grand Best of Show!
I never have known such excitement before.
When is the next show? I want to see more
September 2019
Inspiring words about why quilter's do what they do…….
This quilt is made of cloth and thread
To place upon your little bed.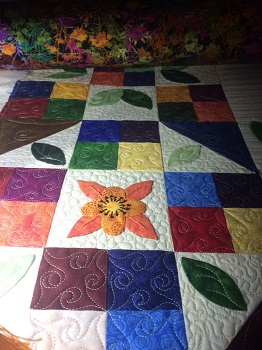 It's not an heirloom just to keep
But to lie upon as you count sheep.
Or perhaps the floors the perfect place
For a doll or teddy picnic place.
This quilt can be anything you dream,
From Superman's cape to the robe of a Queen.
Pretend it's a raft adrift at sea
Or just to cuddle up when you watch TV.
So use it up and wear it out
I promise I won't yell or pout.
Just tell me when it's days are through
And I'll make another one just for you.
—-Author Unknown