Show And Tell
September 2017 Show and Tell Photos:
We love show and tell! Our members bring quilts, both old and new, to our meetings to display and tell bits of information about how they were made or for whom.
These quilts and their stories may inspire the rest of us to make a similar project.camera Often we merely enjoy looking at others' work with awe. In either case, show and tell is one of the most popular portions of guild meetings.
Each month, all of the quilts shown will be featured here for you to enjoy as well.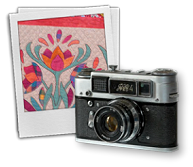 The Mysterious Ladies and a Lad mini-group specializes in Mystery Quilts. Six of their latest creations are shown below as well as the other September quilts.