Block of the Month project for 2011-2011
Block of the Month participants with their finished quilts or tops:
The following are pictures of the quilts which were given to Community Quilts for distribution to local charities.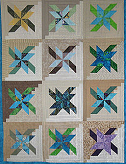 Block of the Month for 2011-2012 has been led by Sherri Hobbs. Each month, at our general meeting, a pattern has been provided to participants who made one quilt block for themselves and an extra block or two to donate to MTQG's Community Quilts service project.
At the meeting in September 2012, the finished quilt tops were shown, as well as 21 quilts which were made (many of them by Sherri) from the donated blocks mentioned above. These quilts will be given to local charities for distribution by Community Quilts co-chairpersons.
You may see more photos of some blocks and quilts made earlier this year here as well as the ones shown at the last meeting which are featured on this page.